New Jersey Baby Box Initiative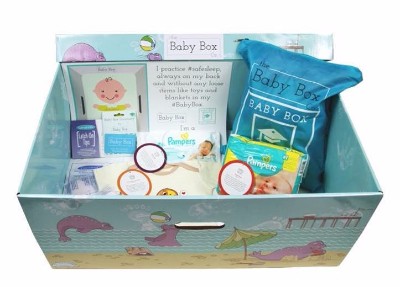 In 2016, an estimated 93% of infant fatalities associated with Sudden Unexpected Infant Death Syndrome (SUIDS) were directly related to sleep and sleep environments. In an effort to create a safer sleep environment, New Jersey's Child Fatality & Near Fatality Review Board (CFNFRB) launched a new initiative to provide FREE Baby Boxes to every new or expecting family in New Jersey.  SNJPC is partnering with CFNFRB to help distribute boxes to families living in South Jersey.
Designed to serve as an infant's sleeping space for the first months of life, Baby Boxes are made out of durable cardboard. Inside each box is a firm mattress and a collection of products including diapers, accessories to assist with breastfeeding, baby clothes and other items. In addition to receiving Baby Box, recipients will also get access to a digital library of health education material through Baby Box University.
The use of Baby Boxes originated in Finland, where they are credited with helping that country achieve one of the lowest infant mortality rates in the world. The success of the Finnish Baby Box intervention inspired the founders of The Baby Box Co. to adapt this tradition with enhanced multi-media parenting curricula through Baby Box University to the benefit of nonprofits, hospitals, government institutions and individual families worldwide.
In order to receive a free Baby Box, an expecting or new parent will need to take following steps: 
1. Register at babyboxuniversity.com, where you will be able to access free health education about SIDS. Be sure to include your correct contact information, including mailing address.
2. Watch the 10-15 minute educational video and take a short quiz. Afterwards, you will receive a certificate of completion and be able to select local pick-up or direct delivery of your Baby Box.
3. If you select direct delivery, your Baby Box will ship to the address you provided when you registered on Baby Box University. If you select local pick up, bring your Baby Box University certificate to the closest participating distribution partner to collect your Baby Box.
Parents can pick up their free baby box from any of our three locations (Atlantic City, Camden and Pennsauken). They must call to schedule an appointment to pick up their Baby Box. To schedule an appointment, call Omaira Salas at 856-665-6000. To learn more about New Jersey's Baby Box program, contact Barbara May at bmay@snjpc.org.  
Get started now, visit babyboxuniversity.com.