The Southern New Jersey Perinatal Cooperative is a private, nonprofit 501(c)(3) coalition of healthcare professionals and consumers licensed by the New Jersey Department of Health as the Maternal and Child Health Consortium for Atlantic, Burlington, Camden, Cape May, Cumberland, Gloucester and Salem Counties. Founded in 1982, the Cooperative strives to maximize resources, address gaps in care and identify emerging regional needs.
Mission & History
Our mission is to improve the health of pregnant individuals, children and families in Southern New Jersey. Guided by a regional perspective, we support collaboration and respect for the diversity of voices concerned about the health of families. 
For over 30 years, we have been at the forefront of developing innovative strategies in maternal and child health care. Since our founding, we have managed over 60 different programs designed to empower families to lead healthier lives. 
We work to improve the region's health by educating communities, advocating for system improvements and engaging with stakeholders. We address every element of care, from the individual to the health care system to policymakers. 
SERVICE REGION
As the maternal and child health consortium for Southern New Jersey, we are focused on improving the health of families across the region. The region as a whole has about 21,000 births each year and we are concerned about the health of each and every one. We monitor our success with a sophisticated data collection and analysis program that is used to identify emerging health trends and create effective interventions.
MEMBER HOSPITALS
All hospitals providing maternity care in South Jersey are members of the Cooperative with designated seats on our Board of Directors. The Cooperative is proud of the strong and dynamic relationship built with member hospitals - a partnership that promotes the best in health care for South Jersey families.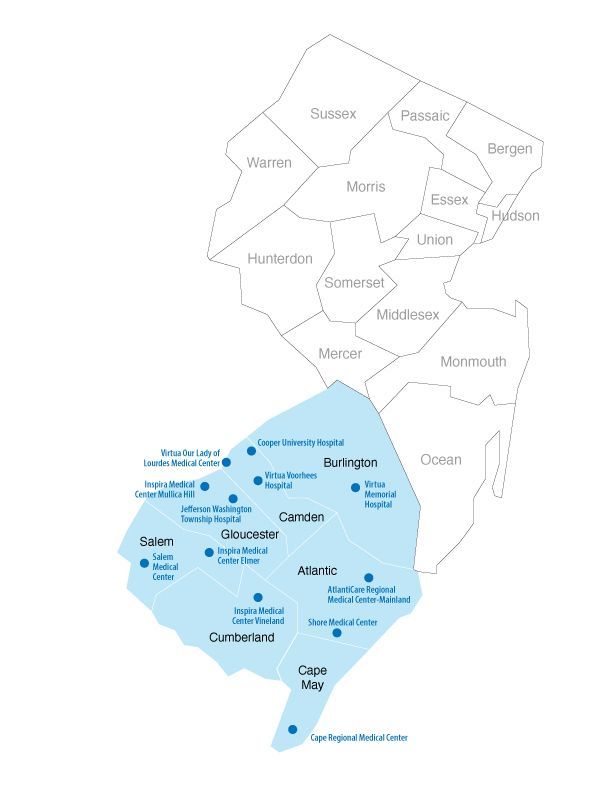 FAMILY HEALTH INITIATIVES
Family Health Initiatives is a subsidiary agency of the Cooperative. An established expert in data management and analysis, FHI helps nonprofit and public agencies improve the health and well being of communities throughout the United States.