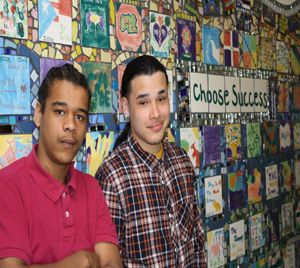 It can be hard to keep a room full of teenagers engaged. It's almost impossible if you're trying to talk to them about safe sex and abstinence. But that's just what the Personal Responsibility Education Program (PREP) did this year.
With teen friendly materials, creative activities and straightforward facilitators, the program realistically talks to teens about pregnancy prevention, safe sex practices and STD prevention.
And the need for straight talk is real. Just ask Jevohn, a 17-year old graduate of the program. "You always hear stuff about sex out in the street, on TV, and from your friends," he says. "I thought I knew a lot about sex, how to be safe, but then we took this myth vs. fact quiz on the first day, I got seven questions wrong!"
The small group size helps teens feel comfortable sharing their thoughts on sex and activities like myth vs. fact keep them engaged, while learning important lessons about the serious impacts of unwise choices. Role-play and videos describe realistic scenarios to help students think about potential situations they could face in and how to make responsible decisions.
"The program helped me to think twice about my actions," says Joseph another graduate of the program, who thinks teens should be more aware of the importance of safe sex. Jevohn agrees, "I'm not ready to have kids now and I never want to get an STD. I am going to be responsible."
For more information on PREP, and to bring the program to your school or community, email us at besafe@snjpc.org or call 856-675-5311