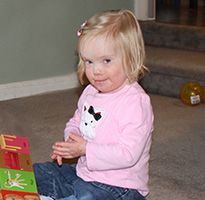 What is most memorable about Allyson D'Ostillio is not that she has Down Syndrome; it is how quickly she captures your heart.
The 2-year-old is a delight with her ready smile, eagerness to play and 90-word signing vocabulary. Allyson is the youngest of Jennifer and Mike D'Ostilio's three children. She was enrolled in Early Intervention soon after birth and began therapy for developmental delays associated with her condition.
The Cooperative's Early Intervention Service Coordination Unit helps parents of special needs children access services provided through NJ's Early Intervention System. Service Coordinators work with parents to create care plans, coordinate appointments and intervene with providers when needed. The D'Ostillios are among the 3,452 South Jersey families assisted by the Unit in 2013.
"The program is excellent," says Mike D'Ostillio, and far superior to the 'seek and find' efforts he would have undertaken without the program.
Relieving parents of the burden to find and negotiate with multiple therapists, the Unit frees parents to focus on interacting with their child which positively impacts developmental progress. The program also supports the delivery of more reliable, consistent and quality intervention.
The newest milestone for Allyson is drinking from a straw. "And now it's the only way she will drink," says her proud mom.
Jennifer, who says she once could not imagine her daughter walking, now speaks with anticipation of goals for the coming year – outside walking on uneven pavement, feeding herself and maybe vocalizing the words she now signs.
For more information on The Early Intervention Service Coordination Unit, email EICC@snjpc.org or call the Regional Early Intervention Collaborative at: 888-653-4463 to determine eligibility.