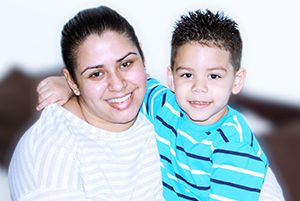 Johanna Florentino was a motivated 17 year old who dreamed of becoming a surgeon. But three months after entering college, she and her new husband learned they were expecting. Unable to stay in school and estranged from family, Johanna found herself isolated and depressed.
Johanna's journey back to her 'real self', began when she met Elizabeth Munoz, a Nurse Home Visitor with the Nurse Family Partnership (NFP) program. NFP is an evidenced based, home visitation program developed specifically for first time moms.
Elizabeth was patient, encouraging and accessible, key elements in earning Johanna's trust.
"At 17 I did not know anything about children," Johanna said. Elizabeth was her primary resource and Johanna relied upon her 24/7. Johanna remembers calling late one night in a panic saying, "He won't go to sleep and I can't find the paper you gave me." Guidance was provided and peace restored.
Along with building Johanna's knowledge about child development, health and parenting, the two worked on Johanna's communication skills in an effort to strengthen familial relationships and give Johanna the tools to ask for help before situations reach a crisis stage.
Today, a wall in Johanna's living room is reserved for certificates, evidence of a renewed optimism and Johanna's fierce determination to "do something greater than what I was doing." It is her personal tenet and one she hopes to inspire in her son through action. When Johnniel turned one, Johanna returned to school, earned a degree as a surgical tech and was the first in her class to be accepted into an internship at a major area hospital. She's now looking for the next challenge.
Visit the National Nurse Family Partnership website for more information. 
Download the National Nurse Family Partnership brochure for more information on the program.