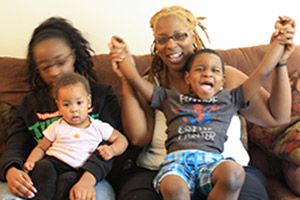 "When you're in a box, it's hard to think outside the box," says Leslie Bright, mother of three and a proud participant of the Healthy Families (HF) program.
Nine days before giving birth to her 3rd child, Leslie found herself suddenly single after 10 years of marriage."I was at my weakest point, scared, overwhelmed and crying every day."
Initially reluctant to accept a referral, because 'who wants a stranger in your home pointing out what you do wrong', Leslie is now a vocal advocate for home visitation and, in particular her HF case manager.
"It was like she read my mind about what I needed," Leslie says about Jennifer Krichman. "The kids took to her right away and now she's like part of the family."
Even with two children already, Bright says she still learned a lot from HF about parenting and child development. She also changed her mind about home visitation. 'Being in the home, they can see exactly what you need without you having to ask."
The family is thriving. Leslie is back to work and in training for a managerial position. "I am striving for more, so my children can have more," she says. She has re-discovered her positive outlook and credits the many people who showed they cared about her and her kids.
For more information visit the Atlantic County Healthy Families program page.
For enrollment questions call 609-345-6420 or email HFAC@snjpc.org