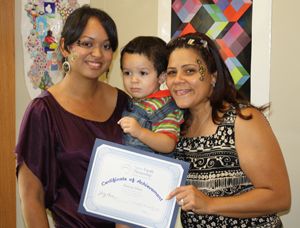 The Nurse Family Partnership (NFP) program has been a lifeline to hundreds of first time mothers in Camden City facing an uncertain future, including Katiria.
Katiria, a Hispanic, low income, local Camden woman, knew it would be a difficult journey, but was determined to fulfill her dream of becoming a Spanish teacher. Overwhelmed when she became pregnant with her first child, Katiria did not want to give up on her lifelong dream, or her newfound dream of being a mother. So she called on NFP as a way to achieve both.
Six months into her pregnancy, Katiria began working with Elizabeth, a NFP nurse. Elizabeth's weekly home visits helped calm Katiria, who says, "Elizabeth was always there when I was overwhelmed. She was more than a nurse, she became my friend."
Elizabeth supported Katiria in every step of her motherhood journey; from providing prenatal care like vaccines and vitamins to sharing tools for stress management and parenting skills to helping with breastfeeding tips.
Katiria, now an elementary Spanish teacher and confident mother to a healthy, baby boy, credits NFP with her success. "I couldn't have done it without Elizabeth. She gave me the skills and confidence to be a mom. Now my friends are getting pregnant and I can guide them. I will teach them what Elizabeth taught me."
NFP provides specially trained nurses who visit women in their homes beginning in pregnancy and continuing until the baby is 2 years old. Young mothers are encouraged to be forward thinking, prepared and independent. Nurses educate, support and counsel all in an effort to improve birth outcomes, support good child development; and enhance the family's economic self-sufficiency. The program works. Rigorous testing has shown NFP to be one of the most effective evidenced-based home visitation models.