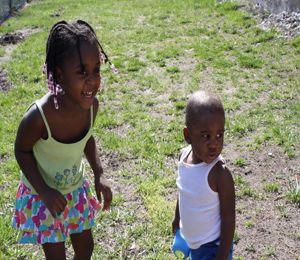 "That's my little brother, Zahir!" four-year-old Amani proudly exclaims. "Zahir, come on!"

She calls back to him as he stumbles along, trying to stay close behind big sis as they play in the backyard.

The children's mother, Patience, looks on smiling.
It's a cherished moment for any mom to watch her kids playing together. It's a sight especially meaningful to Patience.
A little over a year ago, Patience was living in a motel room with her daughter Amani and three week old Zahir. Overwhelmed but wanting to offer the best chance for her newborn son, Patience hoped Infant and Family Development (IAFD) could help.
In April of 2012, Patience began working with her IAFD caseworker, and learned what developmental milestones to watch out for in Zahir. Now, studying the IAFD materials, Patience takes comfort knowing that her son is growing healthy. "I can help him get to his milestones. I know what to look out for… it is really helpful."
Parenting skills learned from IAFD also helped Patience manage Amani, when the once only child began to act out when baby brother first came home. After family bonding activities and guidance from the caseworker, Amani is now a proud, supportive older sister.
Sitting at the kitchen table in her new home, Patience reflects on how far she's come. "I'll always be learning new things, but I feel ready now… I love being a mom."
For more information on Infant and Family Development, call us at (609) 345-6420.