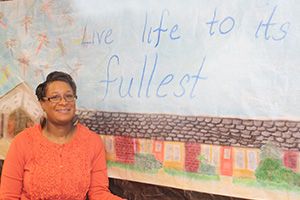 "Kids have a lot of information about sex, but most of it is wrong," says Porcia Wilson, Principal of DCF-Cherry Hill, explaining why she enrolls her school in the Cooperative's Personal Responsibility Education Program (PREP).
PREP works with youth to prevent unplanned pregnancy and the spread of sexually transmitted diseases. Specialists visit schools and community centers and present interactive classes tailored for today's adolescent. The program's goal is to delay sexual activity and promote safe practices among those sexually active. PREP encourages youth to be safe, be proud and be responsible.
PREP is a tool to stop students from making unwise decisions, says Wilson. "Knowledge is empowering and kids need knowledge to not make mistakes."
Most of DCF-Cherry Hill's 60 students reside in group homes. Many have behavioral challenges or cognitive impairments. Too many, says Wilson, have already had a bad sexual experience. Despite such challenges, student engagement at DCF-Cherry Hill is among the highest of all participating schools.
Wilson says many of her students feel discarded - by the system or parents. "I tell students that this moment is just a small chapter in their lives. Do not let it be the book. PREP is something I can offer to help students write better chapters for themselves."
Overall PREP success stems from the staff 's reputation among teens for being authentic, non-judgmental and straightforward. Student comments include: "Great job, you guys are the reason I get tested every 90 days." "This was real dope. I would definitely come back."  
For more information on PREP, and to bring the program to your school or community, email us at besafe@snjpc.org or call 856-675-5311.