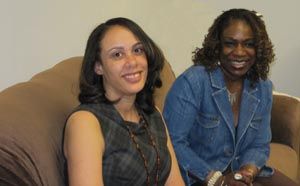 Ena Cade, MD (left) and Barbara Alston are partners in making sure South Jersey children are appropriately immunized. For kids, the best thing this team does is help eliminate unnecessary, duplicate shots.
Barbara Alston (right) runs the Cooperative's Support Center for the New Jersey Immunization Information System (NJIIS). NJIIS is a centralized database of immunization records. Participating pediatric offices can access the immunization history of any child entered into the system regardless of where care was provided. The system is searchable by multiple factors as well as aliases. NJIIS may be the single best tool to ensure NJ children receive the right vaccine at the right time. For parents, the system offers immunization records that are easily retrieved, current and reliable.
NJIIS user Ena Cade, MD is Vice President of Pediatric Health Services for Youth Consultation Services. She often plays detective before treating patients. Many transfer from shelters, inpatient programs, or community residences, complicating the availability of reliable medical information.
Children in disadvantaged families often face unnecessary, duplicate vaccines. Immunization records are not a priority when food is scarce and home a shelter. But without proof, physicians are cautious. New patients without documentation will get all necessary shots, even if they've already been administered by another provider.
Dr. Cade and her staff rely upon NJIIS as an important part of quality control efforts. "It's made a real difference. It saves money and time. It saves on duplicate immunizations and reminds us when shots are due. NJIIS can also generate official immunization records that help our patients prove they're up-to-date on shots when enrolling in school or child care."