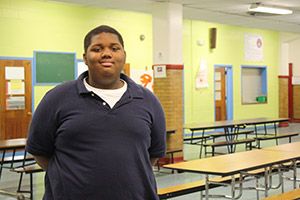 As Coordinator for the Personal Responsibility Education Program, Sarah Malone-Ditzel is not shy about the curriculum's frank approach to improving adolescent sexual decision making. But presenting to a group of 13 middle school boys gave her pause. Even the woman responsible for bringing the program to Cooper Hatch Family School had some reservations.
'Our kids need more creative ways to absorb information and apply skills," said Yolanda Gaither, Health and Social Services Coordinator at Hatch. "If they get bored, they disengage."
Gaither's 'ah hah' moment, the instant she knew that Be Proud, Be Responsible was working, came a few weeks into the six-session course. "Suddenly there was absolute silence in the room. The boys pulled their chairs close to the front, they stopped teasing each other and started asking questions," she said.
Gaither praises the skill of the PREP staff to connect with students. "Sarah put the power in their hands and made them feel empowered, safe and invested."
Once Hatch signed up, four more Camden City schools requested the program. Gaither is looking forward to having Be Proud, Be Responsible become an ongoing feature. "It is an awesome program – interactive, hands-on, free and something our kids need."
To reach PREP Coordinator, Sarah Malone-Ditzel, call 856-675-5311 or e-mail smalone-ditzel@snjpc.org. The PREP program page on SNJPC website has some online resources. For more resources, visit the PREP program page.
Check out more success stories from our 2014 Annual Report.