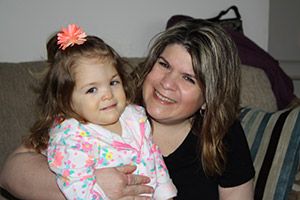 Eliana Moore was born weighing 1 lb 10 ounces. She spent her first 5 months in a hospital, tethered to life-saving equipment. "I was there every day," says mom Jennifer Clawges, "except when Hurricane Sandy hit and I was forced to stay home."
From the start, Jennifer knew her journey with Eliana would be entirely different than what she experienced with her other two daughters. The future felt bleak; she was overwhelmed and unsure.
Two and half years later, Jennifer laughs watching Eliana run across the living room to plop in her favorite chair and pose for a photograph. Expressive and engaging, the toddler delights in being the center of attention.
Eliana's impressive progress is all due to early intervention, according to her mom. 'If not for Early Intervention, Eliana would not be where she is today," says Jennifer.
She also adds that without the assistance of the EI Service Coordination Unit, this working mother of three may not have accepted the service. 'On my own and without Trish (Trish Doebler her EI Service Coordinator) I would not have gone with EI," Jennifer states. "I do not know how I would have managed without Trish."
EI Service Coordinators help parents manage the complex maze of EI services, working closely with parents to set and monitor care plans, schedule therapy and intercede as needed with providers.
'We have settled into a routine and it is working out,' Jennifer reports. While Eliana still has significant developmental and health challenges, the mood in the household is one of empowerment and hope.
In 2014 the Cooperative's EI Service Coordination Unit served 3,561 families in South Jersey.
For more information on The Early Intervention Service Coordination Unit, email EICC@snjpc.org or call the Regional Early Intervention Collaborative at: 888-653-4463.