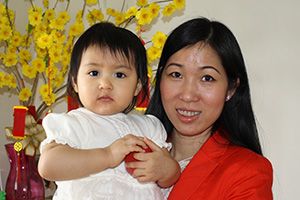 When it comes to infant nutrition, the multilingual Phuc family speaks with one voice. Sữa mẹ là tốt nhất. La leche materna es lo mejor. Breast milk is best.
Phuc Tran is a breastfeeding advocate who found she needed more than passion to reach her breastfeeding goals. "I was afraid I was not producing enough milk for my daughter to have proper nutrition," said Tran. "If not for Sarah I would have stopped and used formula."
Sarah is Sarah Chaikin who directs the Cooperative's WIC Breastfeeding program. The program provides Board Certified Lactation Consultants and trained Breastfeeding Peer Counselors to help WIC enrolled pregnant women and new moms who want to breastfeed. For Tran, Chaikin provided the lactation expertise to address clinical matters and the support to bolster Tran's wavering confidence. Mom was soon back on track and baby was gaining weight.
When Tran returned to work, she wanted to continue exclusively breastfeeding her 4 month old. WIC provided an electric pump which enabled her to breastfeed for another 7 months when baby Janice weaned herself.
Tran is very grateful for the support that made breastfeeding a reality for her family. In comparing her native and adopted counties, she says Vietnam only provides slogans. However, in the US, there are community services that actually help people make the right decision.
"I love my baby and want to give her the best things. Breastfeeding is a good start for a healthy life," Tran says.
Tran is one of the 2,339 educational contacts made by the Cooperative's WIC Breastfeeding Program in 2013.
Visit the SNJPC WIC Breastfeeding program page for breastfeeding resources. To reach a Breastfeeding Lactation Consultant or Peer Counselor call 1-800-WIC-1911 or visit your local WIC agency.