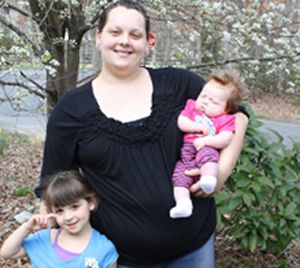 Claudia wanted to give her children the best possible start in life, and for her that meant breastfeeding. Claudia considered breastfeeding an essential gift that only she could provide. She was devastated when medical complications made it impossible with her firstborn Jenna, but vowed that history would not be repeated. Four years later, a pregnant Claudia made her way to the Cooperative's WIC Breastfeeding program and found the path to success.
With access to proper equipment, support from skilled lactation specialists, and a newfound confidence, Claudia was able to breastfeed her second child, Zophia.
The program provides a knowledgeable and resourceful staff to help WIC eligible mothers succeed in breastfeeding. 'When I hit a wall, they were there right away to help me through," she says of the staff. WIC gave Claudia the skills to be a confident mother to two healthy daughters.