Postpartum Depression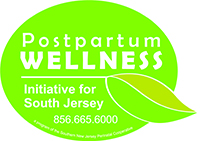 Through its Postpartum Wellness Initiative (PWI), the Cooperative is steadily improving services for South Jersey women experiencing pregnancy-related mood disorders. Program staff works closely with behavioral health providers to identify educational needs, service gaps and other system deficiencies.
New Jersey law requires that healthcare providers screen women for pregnancy related mood disorders after giving birth. For prompt identification of women at risk, PWI promotes a web-based screening option with the Edinburgh Postnatal Depression Scale (EPDS).
The valuable and reliable screening tool can be administered to women after childbirth; however, it is also valid during pregnancy. A woman who screens at high risk for developing a perinatal mood disorder is contacted directly by the PWI-SJ clinician who completes a behavioral health assessment; makes recommendations for care, including support and treatment and provides referral information. The woman may be referred for treatment to a behavioral health provider in her managed care plan, or qualify for treatment through Speak Up When You're Down, the State of NJ program. The woman can also participate in ongoing follow up for up to one month by the PWI-SJ clinician.
Participating Providers
For participating providers, PWI offers free training, equipment and technical assistance with the web-based tool. PWI helps providers locate appropriate treatment and support services for their patients and works in collaboration with the state program, Speak Up When You're Down, to accommodate patient insurance limitations and other requirements that might prohibit access to necessary care.
To become a participating provider, email us at PWI@snjpc.org
PWI clinicians share best practices on patient care. Consultants are available for individual case presentations at ambulatory centers and inpatient units on postpartum screening and treatment. Conferences and workshops led by nationally recognized experts in the field of pregnancy related mood disorders are offered. To view and register for upcoming conferences, click here.
Patient Services
Providers are encouraged to refer patients to a PWI sponsored support group. Click here for a list of offered groups.
PWI clinicians are available to answer questions about postpartum and pregnancy related anxiety via the toll free Warm Line, 856-675-5295. This is a call back service, with calls returned during normal business hours Monday-Friday. For emergency calls, dial 911 or visit the nearest hospital.
Provider Materials
MCH providers working in Southern New Jersey can order SNJPC materials free of charge. Visit our provider materials page to order a supply for your office.
PWI Brochure
Resources
Postpartum Support International. is the choice site for educational events and resources for healthcare providers.
MedEd Postpartum Depression connects health providers specializing in perinatal mood disorders with professional tools and online trainings.
Speak Up When You're Down, provides information on available trainings and highlights frequently asked questions about ppd answered by healthcare professionals.