Support Groups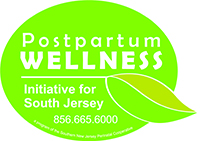 PWI works in cooperation with facilities offering a range support groups to moms in South Jersey. These group meetings offer women a safe environment to talk openly to other moms and share their experiences in motherhood. Support groups promot the general wellness and health of new mothers and their children.
Professional facilitators with specialized training in identifying perinatal mood disorders guide the discussion. Each group is free and participants can join at any time.
Current support groups located in South Jersey are listed below. To attend a meeting, call the phone number listed under your desired group. Be sure to call before attending a meeting, as times and locations are subject to change.
For more general information on support groups, email us at PWI@snjpc.org
ATLANTIC COUNTY
Mom to Mom
Every Monday
1PM-2PM
Shore Memorial Hospital
1 New York Avenue
Somers Point, NJ 08244
Call to register: 609.653.3974.
New Babies New Beginnings
Every Thursday
11:30AM-1PM
Southern New Jersey Perinatal Cooperative
2922 Atlantic Avenue, 2nd floor
Atlantic CIty, NJ 08401
Call to register:609.204.2112 or 609.437.3994
Mommy Wellness Support Group
Thursdays
11:30AM-12:30PM
Atlantic Care
Hackberry Classroom
72 W Jimmie Leeds Rd
Galloway, NJ 08205
For more information call: 609.404-.3835
Bebés nuevos Comienzos nuevos
Todos los martes
10:30AM a 11:30AM
Southern New Jersey Perinatal Cooperative
2922 Atlantic Ave
Atlantic City, NJ 08401
Para más información comuníquese 856.675.5308
CAMDEN COUNTY
TLC Group
Every Wednesday
12PM-1:30PM
Virtua Voorhees
100 Bowman Drive, Garden Level Conference Rm
Voorhees, NJ 08043
Call to register: 1.866.380.2229
CUMBERLAND & SALEM COUNTIES
Baby Talk
Every Tuesday
1PM-2:30PM
South Jersey Health System
Sherman Avenue and Orchard Road
Vineland, NJ 08360
Call to register: 856.641.7538
GLOUCESTER COUNTY
Time for Mom
Every Thursday
11:30AM-1PM
Kennedy Health and Wellness Center
405 Hurffville-Cross Keys Rd
Sewell, NJ 08080
Call to register: 856.582.3098
Postpartum Moms Group
1st and 3rd Tuesday of every month
11AM-12PM
Meridian Counseling Services, LLC
Washington Professional Campus
901 Route 168
Suite 104, 1st Floor
Tunersville, NJ 08012
Call to register: www.meridiancounseling.net 856.751.0505.