Joseph A. Pacera Award
CLICK HERE TO NOMINATE YOUR MCH HERO
Help us give thanks to an individual or agency whose dedicated and selfless work has made a lasting contribution to maternal and child health in South Jersey. For 16 years, Southern NJ Perinatal Cooperative has honored the unsung heroes of our community, whose work has not yet been publicly celebrated and acknowledged, with the Joseph A. Pacera Award for Service to Maternal and Child Health in South Jersey. Deadline for Pacera nominations is March 31, 2013.


The award honors the memory of Joseph A. Pacera, a Cooperative Board member and accomplished healthcare professional, whose commitment to vulnerable families in his community greatly advanced maternal and child healthcare in South Jersey.


ELIGIBILITY
The award is open to individuals or nonprofit organizations actively involved in the development or implementation of a service to the South Jersey community in the area of maternal and child healthcare. The award recipient is not required to be a resident of the Southern New Jersey region. The recipient's work cannot be restricted to members of a particular religious, fraternal or professional group. Special interest is given to nominees who have overcome challenges to accomplish their goals and nominees who have not previously been recognized by a similar award.
PRIZE
Recipients of the Pacera Award have the opportunity to direct a $1,000 contribution from the Southern NJ Perinatal Cooperative to the charity of their choice. Award recipients also receive a commemorative plaque at the Annual Meeting.
PROCESS
The Pacera Award Selection Committee determines each year's recipient, who is announced at the Annual Meeting in April.
PAST RECIPIENTS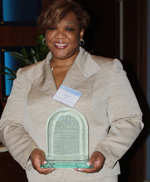 Robbin Bell, 2011 Pacera Award recipient
Bell is the Executive Director of A-HEART, helps give South Jersey babies permanent homes and supports needy families by providing parenting education and costly baby items to caregivers.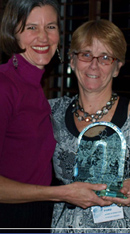 Marya Small (left), 2009 Pacera Award recipient
Small has dedicated herself to helping the most vulnerable South Jersey residents. Her work with Down Syndrome children and as a nurse for the Atlantic City Rescue highlight her compassion and commitment to bettering the community.
Click here to view the complete Pacera Award recipient list