What's New?
Major Progress Since First Surgeon General Report on Smoking and Health was Issued 50 Years Ago
Posted on 01/15/2014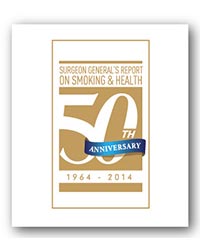 Moms Quit Connection joins health advocates across the nation in celebrating the 50th anniversary of an historic event in the fight against tobacco. Fifty years ago on January 11, 1964 the first Surgeon General's report on smoking and health was released. Since that time significant progress has been made: smoking rates among adults have be reduced by more than half and the per capita consumption of cigarettes down by more than 70 percent.

While great strides have been made tobacco remains the nations' number one cause of preventable death, killing 443,000 Americans and costing the nation $193 billion in health care expenditures and lost productivity each year.

"We cannot wait another 50 years to take decisive action. Our nation must commit to strategies we know will end the tobacco use epidemic," says Cathy Butler, Assistant Director of Moms Quit Connection (MQC), a program that helps pregnant and parenting women end their tobacco addiction. Proven strategies for reducing smoking rates include strong regulation of all tobacco products, higher tobacco taxes, comprehensive smoke-free laws and well-funded tobacco prevention and cessation programs.

The NJ Quitline provides free, telephone counseling at 1-866 NJ STOPS (866.657.8677)
The website tobaccofreenj.com is a comprehensive one-stop hub for those who want to quit, for health care providers who want to help patients quit and for communities who want to establish smoke-free zones. Moms Quit Connection offers personalized cessation assistance for pregnant and parenting women and on-site trainings for physician offices.
For more information about MQC's services contact Cathy Butler at cbutler@snjpc.org.
On January 16th, the Surgeon General will release the 50th anniversary Surgeon General's Report (SGR) on smoking and health. The report will highlight 50 years of progress in tobacco control and prevention, present new data on the health consequences of tobacco use, and detail initiatives that can end the tobacco use epidemic in the U.S.
For more information about this please visit. http://www.surgeongeneral.gov/initiatives/tobacco/
MQC is a program of the Southern New Jersey Perinatal Cooperative the state licensed Maternal and Child Health Consortium serving the seven counties of South Jersey.