What's New?
First Time Moms in Camden Receive Free Boppy Pillows, Breastfeeding Support
Posted on 06/19/2013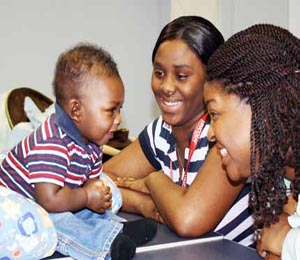 Nurse Family Partnership- Camden City, received 100 free Boppy Pillows last month as part of 'The Boppy Effect: Get One, Give One', a national initiative of the Bobby Company, maker of the Boppy Pillow. For every Boppy Pillow purchased, the company donated a free pillow to select Nurse Family Partnership (NFP) agencies across the county.
NFP-Camden hopes the pillows, specially designed for breastfeeding support , will increase breastfeeding rates among its clients- all of whom are first time, low-income mothers.
NFP Nurse Jillian Scott (left) shows new mom Katina how the Boppy Pillow can help with son Jah'sie Prince
"Breastfeeding is an important component of our program and brings health benefits to both mother and child. We are hopeful that the Boppy Pillows will be yet another form of support we can offer the women in our program," said Karima Alderman, Project Director of Nurse Family Partnership.
The Boppy Pillow was developed to help moms achieve breastfeeding goals and its circular shape provides a comfortable position for both mom and baby during feeding. The pillow can also be used to improve crawling and motor skills in infants.
NFP-Camden, an evidence-based home visitation program, helps first time moms, who often feel overwhelmed at the prospect of motherhood, have healthy pregnancies and healthy babies. NFP nurses offer the support moms need to become confident and responsible parents and to provide their babies with the best possible start in life.
The relationship between nurse and mother is central to the success of the program. Learn how recent NFP graduate Katiria made her dreams of becoming a teacher and mom come true by working with Nurse Elizabeth.
To learn more about NFP-Camden visit snjpc.org/programs/parenting/partnership.html. For more information about The Boppy Effect: Get One, Give One program and how to make a difference in the lives of first-time moms, visit Boppy.com/getonegiveone.