What's New?
Cooperative Honors Local Nurse for Committed Service to Infants and Families in Region
Posted on 05/15/2013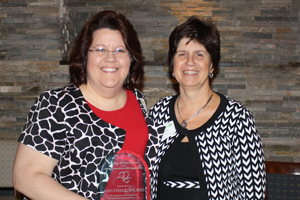 Pacera Award recipient, Ann Coyle, with Barbara Hansen, Pacera Selection Committee and SNJPC Board member, at 2013 Annual Meeting

In recognition for dedicated service to infants and families in South Jersey, the Cooperative named nurse Ann Coyle of Audubon its 2013 recipient of the Joseph A. Pacera Award for Maternal and Child Health.
The 17th annual Pacera Award was presented at the organization's Annual Meeting, held April 24, 2013.
The Pacera Award recognizes remarkable individuals who, without any expectation of acknowledgement or praise, devote themselves to serving those most in need and improving the quality of care. Coyle, a nurse at the Neonatal Intensive Care Unit at Virtua Voorhees Hospital, does just that.
Coyle looks after premature infants and provides support to families suffering the loss of an infant. Lead faciliator of the HOPING Group, a support service for these families, Coyle helps families in a time of immense heartbreak and stress, embodying the selfless significance of the Pacera Award.
In 2012, seeing a need for further services for these families, Coyle dreamt up the idea of the Angel Garden.
The Garden provides families a reflective place to honor the memory of their child. Memorial plaques line the Garden, on which families engrave the name of their child, to be remembered forever. Located at Virtua Voorhees, the Angel Garden is open to any family in the region who has lost an infant.
The Pacera Award includes a $1,000 donation to a charity and Coyle elected to use the donation to support her Angel Families Foundation. Still in its initial stages, Angel Families will provide support services to families who have lost a child between conception and the first year of birth. For more information on Angel Families Foundation and the Angel Garden, click here.
SNJPC is honored to recognize Ann Coyle with the 2013 Pacera Award and thanks her for her devoted service to mothers and children in our community.